New Orleans Mourning by Julie Smith is the first book in the 10 part Skip Langdon series. It was published on Christmas Day in 1990.
Meet Skip Langdon…
Skip has something to prove. The daughter of a doctor whose clients are New Orleanian elite. She's still seen as the child of "the help" when she finds herself back in her hometown embarking on a new career as a police officer. She was not originally assigned to be a detective. Nor was she supposed to be a member of the homicide team. But she finds herself there after the murder of a prominent member of society is shot to death in the beginning of the book.
Dolly Parton comes to Mardi Gras, and she brought her pistol to make the King's head roll…
Have you ever been to New Orleans? I have and even though it wasn't Mardi Gras I found Bourbon Street overwhelming. For those who hail from The Big Easy the Mardi Gras parade is an annual tradition so looked forward to that they often begin planning the next years costume the day after the parade.
I still wonder how much thought the person who decided to dress up as Dolly Parton to shoot Rex, the crowned king of Carnival, put into that costume. But just envisioning it made me laugh too hard. This year Rex is Chauncy St. Amant and boy oh boy does he have some skeletons in his closet.
New Orleans is a strange city…
I had a great appreciation for the way the author handled the history of the city of New Orleans. There were many issues related to race, lineage and self-loathing that many people are afraid to discussed. But the author did not shy away from it. Nor did she sugar coat it. There were phrases and concepts that made me cringe but the truth is a very hurtful thing.
Still the city is strange and that cannot be denied. Millions flock there to come undone in the streets during the infamous Mardi Gras celebration.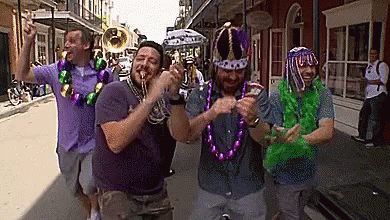 It is undeniably humorous even from afar.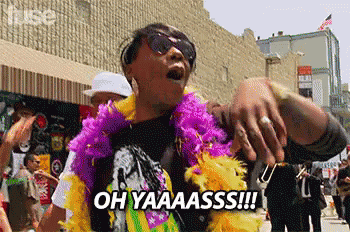 Blame it on the Rookie…
She makes some Rookie mistakes along the way. Skip is in an environment and around people that are far too familiar to her and she is still finding her footing on the scene. Because she knows the people being investigated personally she has a bit of an advantage but also a disadvantage in that her ability to move within the circles of the New Orleans elite ostracizes her from her fellow law enforcement team.
The original BBW…
I was pleasantly surprised to find that our main character, Skip Langdon, is presented as a tall, plus sized woman. Seeing as this novel was released in 1990 back when Big wasn't accepted as beautiful. Not that this novel pretends that it was. There was plenty of fat shaming throughout the book. Some of it interferes with her investigation at times when people resort to insulting her weight in order to get her to back off.
Lets not pretend she is a fashionista. She is not. And everyone reminds her of this as she walks about awkwardly in her high heels and poorly coordinated outfits. But that's what happens when you pick up cloths from wherever you dropped them. Don't get all judgmental and act like you haven't.
The Big Easy has some sleazy characters…
Chief among them are the highly entertaining son of Chauncy, Henry. He is very angry and bitter and gay. His biting comments are so much fun. He knows he can dress better than Skip and doesn't mind telling her.
His mother is also an alcoholic. Not even a functioning one. I think she would be classified as barely functioning. It is a good thing she is skinny enough to be carried everywhere.
Case closed…
This book wasted no time and there were many exciting twists. She did a good job of getting down and dirty with her detective work. Skip had no problems participating in a one woman stakeout.
She uses her ability to toggle back and forth between the world of law enforcement and privilege to her full advantage. I felt her character was fully fleshed and could feel her compassion and disdain for the haves and the have nots.
As the mystery behind the case unfolded the pace quickened even more with several subplots being revealed. There was unforgettably rich irony when Skip discovers the full story behind the killer and turns it over to her superiors at the precinct.
I have never read a cozy mystery with a member of law enforcement as the main character. And as a result perhaps that means this series would not be characterized as such. But in my opinion it can get a pass. While there is some foul language it isn't overly vulgar and violence takes place off screen so to speak.
I think certain taboo topics within the book could have been handled in a better manner. But again, there are prejudices in this world and sometimes that can be harder to swallow. A bit more character development would not have hurt either.
I liked this book and will read the second book, Axeman, at some point in the future.